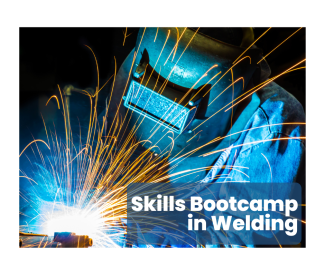 Welding Skills Bootcamp - Greater Manchester 
Are you aged 19+, looking for work and interested in a Career in Welding? Then join us at Rochdale Training today for our five-week fast-track course!
This training has been made possible thanks to Greater Manchester Combined Authority securing funding to deliver Skills Bootcamps, which form part of the Government's Lifetime Skills Guarantee, helping everyone gain skills for life. Skills Bootcamps are fully-funded, flexible courses, giving people the opportunity to build up sector-specific skills and fast-track to an interview with an employer.
This Skills Bootcamp in Welding is aimed at those looking to progress into a welding job or achieve progression into a better welding job. We are working with local employers who will be interviewing Skills Bootcamp candidates for jobs either immediately or in the near future. This 5-week Skills Bootcamp in Welding has been designed in partnership with engineering employers across Greater Manchester and is for people who wish to retrain to gain practical skills and knowledge in welding and fabrication.
Course Details: 
Understanding and interpreting Engineering information
Engineering materials
Material preparation, measuring and marking out to specification
Shaping components using hand tools
Metal fabrication techniques and processes
Basic welding processes including MIG and TIG
Safe use of power tools in a workshop environment
H&S awareness
Employability Skills
Training takes place - Monday, Wednesday & Friday, 9.00 am to 2.00 pm for five weeks. Candidates will be invited into an information session at Rochdale Training before being offered a place on the course.
Benefits:
Guaranteed interview with an employer
Achieve an accredited qualification
One-to-one support from the tutor/mentor to help get a Job
Benefits will not be affected
All PPE is provided by Rochdale Training on a loan basis.
Entry Requirements:
Candidates must be 19+
Candidates must be a Greater Manchester Resident
You must be committed for the full duration of the course at Rochdale Training
Not already enrolled on any other funded course
Must have the right to work in the UK
Information Session:
Our next information session will take place on the 15th of December 2022 at 9:30 am for the course to begin on the 3rd of January 2023.
How to Apply:
Contact Nathan on 01706 631 417 or nfinn@rochdaletraining.co.uk to register your interest for our next enrolment date.
For more information call